What if we told you that through 5 games in this series, one team would hold a strong 3-2 lead over the other behind a record-setting performance by one of their role players, you'd probably assume that Ray Allen had woken up from a season-long slump...or that Kawhi Leonard had locked down Lebron like nobody before him...or that Chris Andersen would have shot 100% through 5 games again...or that Patty Mills would have successfully ripped a hole in the space-time continuum using a towel. Well, the first statement here is true, but the "role player" to step up is not one that many of us - OK, any of us - expected. Yes folks, if the series was a Best-of-5 rather than a Best-of-7,
Danny Green
would almost certainly have been named Finals MVP last night. That's the same Danny Green who was waived by the Cleveland Cavs after Lebron left, and was waived
twice
by the Spurs before finally catching on in 2011 after a desperation phone call to coach Popovich got him back on the roster.
He also features hilariously in this video of Lebron's 25th birthday.
Yet with a bit of coaching and a lot of hard work, Green reinvented himself as a deadly three point shooter, shooting 43% over the last two seasons and shooting a scorching 52% on over 6 attempts per game this postseason. He has made 25 THREE POINTERS through 5 games, smashing Ray Allen's record from 2008
(which, by the way, was set in a 7-game series), and has played incredible defense as well, notably on the fast break. This article will likely jinx him for games 6 and 7, but assuming he continues this pace and the Spurs win the series, would he be the
most unlikely Finals MVP
in history? Let's look at some other candidates, rated on a 1-10 scale, where 1 is '93 Jordan and 10 is...well, '13 Danny Green.
Tony Parker - San Antonio Spurs, 2007
Before the last couple of seasons, when people talked about the San Antonio Spurs, they usually thought of it as Duncan's team with several other "secondary stars" to carry him when he had an off-night. Yet in the 2007 Finals (ironically against Lebron's hopelessly out-manned Cavaliers), it was Parker who carried the load, averaging 24.5 PPG as Duncan struggled to assert himself inside against the Cavs front line. Parker's output was 6 points greater than his average during the regular season, but he was still the Spurs' second most productive player by pretty much any metric you wanted to choose. At age 24, Parker was not yet the star of that Spurs team, but after a great finals performance, you could tell he was on his way to greatness.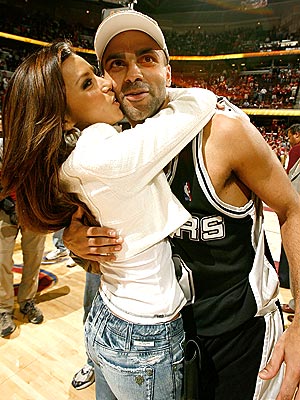 Chauncey Billups - Detroit Pistons, 2004
The last team to supposedly win a title without a superstar was the 2003-2004 Pistons, who rode 5 above-average starters and a punishing defense to a 5-game victory over the star-studded Lakers looking for their 4th title in 5 years. Billups did not fit the profile of a Finals MVP, averaging only 16.9 PPG during the regular season and 16.4 PPG in the playoffs. (Quick side note: also on that Pistons team? Darko Milicic! What was his playoff PER? -14!!! I love the fact that he has an NBA championship ring). Rip Hamilton (21.5 PPG) was the offensive star and Ben Wallace was the defensive star, but as the leader of a true championship team, it was Billups who took home the hardware (despite a monster 18-22 from Wallace in the clinching Game 5). Billups' numbers make him look like a surprising MVP, but he was the unquestioned leader of that team, and few were truly surprised to see him given the honor at the series' conclusion.
"Hey Ben, you think we can get anybody cool to
come party in Detroit with us? Yeah, me neither."
Cedric "Cornbread" Maxwell - Boston Celtics, 1981
The 1981 Celtics' roster is littered with NBA legends - Larry Bird, Robert Parish, Kevin McHale, Tiny Archibald. But what was the common theme for these players? With the exception of Archibald, they were all young, with Parish in his 5th year, Bird in his 2nd, and McHale a rookie out of the University of Minnesota. During that Finals, Maxwell started slowly, scoring only 16 points in the first two games, but he led the C's in scoring the next 3 games, kept Rockets star Moses Malone in check, and provided an emotional lift for a young team on their way to another championship. Although Maxwell would be known more for his inspiration of Lance Stephenson during the '84 Finals (making a choke signal at James Worthy after he missed a free throw with 10 seconds to go), it was in '81 that he won a surprising MVP over Bird, Archibald and Parish (McHale would not become a major factor for several years). Maxwell wasn't the most skilled player on that team...but he still was a primary contributor throughout the season and, once again, was ready to step up when his team needed him most.
Gotta love those '80's shorts.
So what did we learn? What Danny Green is doing thus far is completely unprecedented...but Finals MVPs only go to players who contribute to clinching series victories. If he wants to take home the hardware, he'll have to somehow repeat his miraculous performance on the road. I wish I had bet on him before the series, but I wouldn't bet against him now.