We're back, baby! That's right, after a lengthy hiatus due to the off-season, other time commitments, and general apathy towards the sort of NBA "news" typically found between July and October (Al Jefferson thinks the Bobcats are "ready to take the next step!"), Volume Shooters is returning for a second season. This year, in addition to the quality writing (OK, just quality .gifs, but please bear with us here) you've come to expect from Paul, Jack and Brian, we have a veritable stable of new writers coming into the fold this year anxious to share their thoughts on the greatest professional league in the world. We will have them introduce themselves when they write their first pieces, but trust us when we say they all will have good insight into the season – despite what you may think from talking to them every day.
But onto the important stuff: this NBA season! Most teams are 16-18 games in so far, so most of the extremely small sample size results (the Sixers can win the East! The Nuggets will be favorites in the lottery!) have evened themselves out. Despite this, there have been some major surprises thus far, and people are starting to backtrack on some of their preseason predictions. So which of these trends are likely to continue and which will die out by season's end? Considering I was correct on a full ONE AND A HALF out of FIVE bold predictions
last year
, I feel as though I'm uniquely qualified to answer that question. We will examine some early season trends, and grade them as True, Truthy, Falsey, and "Skip Bayless-certified." So here we go…
Trend: Indiana is the best team in the league
In fact, they are so good it bores Lance Stephenson
People expected Indiana to be just about as good as they were last year: solidly a top-3 team in the East, with a great defense, decent offense, and probably making a feisty opponent for the Heat to beat in 6 games in the playoffs. Instead, Paul George has become Kobe Bryant, Lance Stephenson has become Scottie Pippen, George Hill has become a less crappy version of George Hill, and the Pacers are the juggernaut of the league at 16-1 and sporting a ridiculous +11.1 point differential per game. With only 1 OTHER EASTERN TEAM ABOVE .500 RIGHT NOW (which we'll touch on later), all of a sudden it looks like the Pacers could cruise to the #1 overall seed and move from "fringe title contender" to "title favorite."
I, however, remain unconvinced. Paul George certainly seems to have made "the leap," but other than adding Scola, they haven't made any notable roster upgrades to last year's team. Since the East currently consists of the Pacers, Heat, and a pile of hot garbage, it seems feasible that they could get the #1 seed, especially if Miami continues to coast as it has in the early going. Unfortunately for the Pacers, they still have to beat Miami in the playoffs, and realistically, I can't see that happening. Lebron has somehow been going under the radar despite shooting roughly 97% so far this year, and he is driven to get a third consecutive ring (which would match several other notable players I can think of). Could Indiana beat Miami in the playoffs? Sure. Would they be favored to do so? Almost certainly not.
Verdict: Falsey (could get #1 seed in East, won't make Finals)
Trend: The Warriors are legitimate Finals contenders
Don't look know, but these guys are for real
Even though the Rockets ended up signing Dwight Howard, it was debatably the Warriors that made the biggest offseason splash when they were able to sign Andre "The Mole" Igoudala away from the Nuggets. Armed with healthy versions of their two all-star caliber big men (Bogut and David Lee), as well as America's darling Stephen Curry, there were those out there who thoughts the Warriors could be destined for big things (FULL DISCLOSURE: this includes yours truly, who stands to win $450 if the Warriors win the title). Through the first month of the season, the results have been solid, if not spectacular; a 10-8 record, outscoring a brutal strength of schedule by almost 4 points per game, and surprisingly sporting a 6th ranked defense. But all those things indicate a 3rd-5th seed team, not a team that's supposed to contend for a conference title. So why do I think they will turn things around?
As much as it pains me to admit it, the addition of Igoudala was an absolute home run for the Warriors' scheme under Mark Jackson. It allows Curry and Thompson to save a bit of energy on defense, gives them a true driving threat when defenses play tight, and adds another playmaker to a front line that can already lay claim to being one of the best passing groups in the league. Furthermore, it moves Harrison Barnes to the bench, where he can take on more of a scoring role than as the starting power forward (performances against Denver non-withstanding). But most importantly, their speed and quickness presents matchup problems with most of the other Western contenders, as they showed against San Antonio last year. And Curry hasn't even played well thus far! I think the Warriors have nowhere to go but up, barring any injuries to key players (*knocks on wood 50,000 times*), and will emerge as legitimate threats in a stacked Western conference…until the Nuggets upset them in the first round as a #6 seed.
Verdict: Truthy (far more likely than you might think)
Trend: Nobody's tanking! (or at least not the 3 teams we expected)
At the beginning of this season, there were a number of teams that people had wildly divergent expectations for – the Lakers, Pacers and Pelicans just to name a few. But there were 3 teams that pretty much everybody expected to be bad: Phoenix, Orlando, and the team predicted to be the worst of all, Philadelphia. While each of these teams had a few things going for them (Phoenix with the Morris twins, Orlando with Michael Jordan junior, and Philly with…sweet jerseys), it wouldn't have surprised anybody to see these three teams starting next season with Wiggins, Parker and Randle. Instead…well…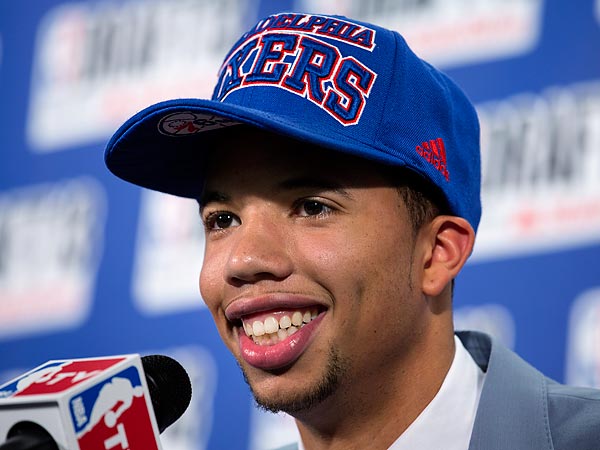 "I'm 14 years old, and better at basketball than you"
Don't look now, but these teams are doing pretty well! The Sixers have faded after a hot start, but due to the atrocity that is the Atlantic division, they are only a game out of a playoff spot right now. The Magic are also losing most of their games, but again, this is a team that people thought would win 23 games this season. Oladipo is the truth, Afflalo continues to be one of the most underrated players in the league, and Vucevic should go ahead and trademark the "Barbara Walters" nickname right now. Finally, the Suns have the toughest playoff competition right now…but they are over .500 at 9-8! Their roster is filled with castoffs, young players, and Miles Plumlee, but they are somehow getting it done. The interesting thing is, these teams are all so young that they should only get better as the season goes on. I don't think Phoenix has enough in the Western Conference, but you heard it here first: either Philly or Orlando is going to win 36 games, get the 8th seed in the East…and get smashed by Indiana in round 1. Still, something tells me those fan bases will take it.
Verdict: True (Phoenix), Truthy (Orlando + Philly)
Trend: The Nets are awful (but still the best team in NYC)
Now this is one that you would have been hard-pressed to predict before starting the season. Sure the Nets were old, but they were going to start 5 potential hall of famers! Sure the Knicks had a few holes, but they finally had some bench depth! Well, so far, even in the worst division
IN THE HISTORY OF AMERICAN SPORTS
, they are setting second to last and last in the standings. For two teams picked by many as title contenders this season, that is a truly shocking departure from expectations – the Magic could be 15-3 right now and I'm not sure people would be as surprised as they are to see the Knicks with more losses than the Heat, Spurs, Thunder and Blazers…COMBINED.
In the Nets case, they seem to have 2 clear problems: a ton of injuries, and quite possibly the worst head coach of all time (soda shenanigans non-withstanding). Of the aforementioned hall of famers, all of them have missed significant time, and key bench players like Kirilinko and Jason Terry have as well. Of course, at this point, it might not matter, since I'm pretty sure Jason Kidd's idea of diagramming an offense goes like this:
1)
Brook Lopez post-up on block
2)
Joe Johnson does magic shakey dance with ball
3)
Garnett wills ball into basket with intensity
4)
Punt, acquire superior field position
Something tells me Kidd will not last long in Brooklyn, and I expect them to improve once he is removed. The Knicks, on the other hand, can't point to one clear problem with their team: the offense is bad, the defense is worse, and when you have 2 "players only" meetings in your first 16 games, clearly something is up. Their roster pieces don't seem to fit together (not that Bargnani has ever seemed like he fit in with a team), Anthony looks increasingly likely to leave, and people in the big apple are clearly hitting the panic button. The Knicks could squeak into the playoffs just by virtue of their division being awful, but even if they do get that lucky, they clearly need a major rebuild sooner rather than later.
Verdict: False (Nets will improve); True (Knicks will not)
Trend: Kevin Love could win the MVP!
Ron Swanson meets Kareem Abdul-Jabbar
Finally, let's talk about the player who has stood out the most individually thus far. He's averaging 24-14-4, has strong shooting splits, and is leading a playoff contender through a difficult early season schedule. So who is it? Not LeBron James, not Paul George, not Dwight Howard…but Kevin Love, who finally looks healthy and ready to lead the Wolves into the playoffs. His team has dropped a few games of late, but they are the darlings of the advanced metric systems, and Love is leading the charge thus far.
We know he will end up being an all-star and probably making 1st or 2nd team all-NBA if he stays healthy. But can he win the MVP? Typically, an MVP candidate must hit a couple benchmarks: play for a good-to-great team, be the clear #1 option on that team, be near the league lead in a few different statistical categories, play respectable defense, and pass the "eye test" – i.e., look unguardable a lot of the time. Love is clearly the #1 option on the team, he should lead the league in rebounding, and may finish in the top 10 in scoring as well. His defense is average, but his insane rebounding numbers provide a significant impact on that end as well. And when he is draining 3-pointers at 6'11", there is pretty much nothing anybody in the league can do about it. If Minnesota somehow manages to grab a #4 or #5 seed in the West, I can definitely see voter fatigue setting in and LeBron losing out even if he has superior numbers. Now Love only has to hold off Paul George…you know what, maybe he's not such a great bet after all.
Verdict: Falsey (great year, probably not a great enough team)