It is a special day here at Volume Shooters, as the time has come to elect another member into our prestigious club, the (Basketball) Hipster Hall of Fame. As a reminder, we select for this hall of fame from on a set of questions we developed based on the
Keltner List
, designed to determine a player's worthiness for induction. Some of the questions are more or less necessities, others simply add bonus points and make a stronger case for the player. These are players that the mainstream media may ignore, but the true (hipster) fan holds in extremely high regard. Today's candidate is described on his Wikipedia page as "fundamental for the most part, as he is not known for being a flamboyant player." Sounds pretty hipster to me. David West everybody!
West, looking far too cool to be posing for this picture

The questions (and answers) are as follows:
1. Did this player have something unique or unusual about his game that distinguished him from many, if not all, of his peers?
When you watch West play...well, when you watch games West plays in, you probably aren't watching him. The guy looks like he is moving in molasses most of the time. I mean, the soundtrack to
this highlight video
is called "Sloe Gin" for god's sake. West may not have one unique feature to his game, but we may never see another player with the same build and skill set.
2. For at least most of his career, did fans of the player's team harbor an increased appreciation for this player's skills by virtue of seeing him on a regular basis? In other words, was he a "crowd favorite?"
In New Orleans, where West spent the first 8 years of his career, he was Chris Paul's favorite player to play with - for good reason, as he put up stellar numbers after being inserted into the starting lineup in 2005. New Orleans isn't known for being a great basketball crowd (despite their
best promotional efforts
), but those that attended the games always held West in high regard.
3. Has this player ever won an MVP award or been the best player on a title-winning team?
West did actually win an MVP award of sorts...the AP National (college) player of the year award in 2003, as a senior at Xavier. Unfortunately for him, he was not able to parlay that into the similar award for the pros. He has struggled a bit in the playoffs, averaging only 15.8 PPG, but did take the Spurs to 7 games in the Western Conference Semifinals in 2008.
4. Was this player elected to 8 or more All-Star games or 4 or more All-NBA teams, with at most 1 being a first team selection?
West is a 3-time All-Star, which is somewhat surprising until you consider that he played most of his career with Chris Paul. He was never really a threat to make an All-NBA team, but did have several pretty nice seasons, notably 2007-2008 (20.6 PPG, 8.9 RPG, 2.3 APG, 1.3 BPG on 48% from the field and 85% from the free throw line).
5. On the other hand, was this player at least reasonably successful for an extended period (>3 years)? If the player was injured, can it be assumed he would have been successful for this period?
Similar to Andre Miller, West had an excellent 5-year peak from 2006-2011, never averaging less than 18.3 points and 7.5 rebounds per game. As a face-up 4 man, those are pretty great rebounding numbers, and you could always count on him to get a bucket in the clutch. West tore his ACL in 2011 but has come back with one of his most efficient seasons this year for a solid Pacers club in the East.
6. Did the player's unusual style in some way contribute to his success?
Along with Dirk Nowitzki, West is probably the best "ass-to-the-basket" player from 18-20 feet away. His go-to shot, the fadeaway, is nearly impossible to block from this range, but since teams have to play him so tight, he is able to use a decent first step to get by his man for a drive and dish. While not quite as lethal as Dirk from this range, he is probably a better passer, which is a critical component of his game.
7. Did the player's unusual style work for several different teams, or at least several different types of teams?
West has only really played for 2 teams: Chris Paul's Hornets teams and the last few Pacers teams, who seem to try and win by lulling their opponents to sleep on every possession - either that or having Tyler Hansbrough give you the crazy eyes.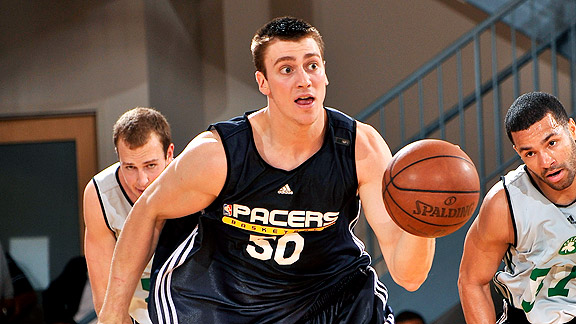 I JUST SHOTGUNNED

4 MOUNTAIN DEWS!!!!!!!!!!!!!!!!!
After a brief adjustment period, West has been just as successful for the Pacers even without the

guidance of Chris Paul.
8. Was the player ever in the top 3-5 in the league at any one facet of the game?
As mentioned above, West has always been one of the best high post players in the league, and has always had one of the best fadeaways. What he lacks in athleticism he makes up for in...well...its sort of hard to tell how he makes it up. By being sort of tall? Not sure a player has ever averaged 20 points a game with less fanfare than West for two years with New Orleans.
9. Do color commentators seem to think this player "always kills their team" or "plays great against us," when in reality his game is just better than the announcers expect?
Another massive check for West here. Every color guy seems to know exactly how to stop him, but their teams can never execute the correct strategy. In reality, when he is shooting well, he's almost impossible to guard.
10. What impact did the player have on basketball history? Was he responsible for any rule changes? Did he change the game in any way?
Unfortunately, West is destined to go down as one of the forgotten stars of the last decade to everybody except Hornets fans. Swing and a miss here.
11. Do the player's career statistics jump out at you? If not, do they at least mildly surprise you in a positive way?
Well...they certainly don't jump out at you, although seeing how West doesn't jump either, maybe we should come to expect that by now. He does have over 10000 points, but even if he plays until age 35, he probably won't reach 7000 rebounds, 15000 points, 2000 assists, or 1000 blocks/steals. It can be difficult for power forwards to accumulate stats, but West doesn't have one number that makes you say "Wow!"
12. Did the player ever have games, or stretches of games, where they truly were dominant?
Once again, West was definitely more inclined to play consistently well for a long period than to play great for a game, or a few games, at a time. Still, he has scored 30 points a bunch of times, and 40 points 4 times, with notable games of 27-18 in 2005 and 44-12 in 2009. Pretty good? Yes. World class? Less likely.
13. Would an objective observer conclude that this person should be a Hall of Famer as a player?
Not really - 3 all-star teams is impressive, but you never looked at David West as a Hall of Fame player.
14. At the same time, could you make a "5%" case for hall of fame induction for this player?
West has two things in his favor here. One is his consistent play for a long stretch - he is just as effective now as he was in 2005, despite no point guards to speak of on this year's Pacers squad. The second is that the people who frequently visit the actual Hall of Fame (mostly high school coaches who wax poetic about Dolph Schayes' set shot and actually think the Mikan drill did something productive) absolutely love West's game. Tim Duncan may be Mr. Fundamental, but West is definitely a candidate for Uncle Fundamental who occasionally "goes crazy" and shoots a fadeaway from 20 feet.
15. Do a large subset of "real NBA fans" hold a great deal of appreciation for this person's game that never shows up in mainstream highlights?
Watching West play with anybody who has seen a lot of the Hornets, every time he makes a positive impact, a knowing smile comes across the person's face. He may not be quite as awesome a candidate as Andre Miller was, but he is more than deserving of induction into this now three-man club.
So what does Andre Miller think of his new compatriot?
Miller, wearing Mike Tyson's warmup gear from 1988.