Each week at Volume Shooters, we highlight an NBA player, past or present, who doesn't spend much time in the spotlight but is nonetheless a valuable cog in his team's quest for the championship. Here's this week's edition:
In 1996, a 7'0" center by the name of
Horacio Llamas
(out of noted powerhouse program Grand Canyon University) became the first Mexican-born player ever to make the NBA. Four years later, Eduardo Najera was drafted by the Dallas Mavericks, beginning a successful 12-year NBA career (on a humorous side note, Najera is the current coach of the Texas Legends and was
recently suspended
for receiving his 13th technical foul of the season - a full 6 more than the NBA coach with the most technicals! Really taking that coaching gig seriously). These guys would both make excellent obscure players in their own right, but they are both retired from the game. So who is carrying the torch for Mexican players in the NBA today? None other than this gentleman:
That's
Gustavo Ayon
, currently of the Milwaukee Bucks! Here's what you need to know about Gustavo.
Country of Origin:
Since we covered this already, here's a quick review of the
Liga Nacional de Baloncesto Profesional - the Mexican professional basketball association! Featuring noted powerhouse

teams
Halcones Rojos Veracruz (the Veracruz Red Hawks), the
Gansos Salvajes de la UIC (the UIC Wild Geese), and, unbelievably, the
Lechugueros de León
(the Leon Lettucemen), the LNBP has been providing Mexico with high quality basketball action for the last 13 years. Ole!
Vitals:
Ayon stands 6'10" and a hefty 250 lbs.
Position:
Center / Power Forward
Nickname:
Although his stated nickname is "El Titan," I prefer the moniker given to him by Jarrett Jack when he was with the Hornets: "Goose."
Career Arc
: Believe it or not, "Goose" never played for los Gansos Salvajes, but bounced around 8 different Mexican and Spanish league teams before the Hornets picked him up in 2011. Once he got there, he became a favorite not only of the fans, but of the advanced stats crew, racking up a solid 16.7 PER and 3.2 Win Shares despite playing less than 1100 minutes. Ayon was actually involved in one of the biggest trades of the off-season when he was shipped to Orlando for Ryan Anderson, part of Orlando's continued effort to
tank and get lucky with their draft pick
build a solid young core after losing noted
whiner
center Dwight Howard. Ayon was then part of the biggest trade at the deadline this year, going to Milwaukee with J.J. Redick in exchange for
a shiny dime and Howard's cell phone number
Tobias Harris, Doron Lamb and Beno Udrih. He has struggled to find playing time with Milwaukee as they play a more up-tempo style, but he will likely find work again in the NBA regardless of whether or not Milwaukee resigns him next season.
Buck-est Ayon Mixtape Available on YouTube:
You mean other than this Will Ferrell clip?
He doesn't speak a lick of

English!
As near as I can tell, this is every point that Ayon scored with the Hornets in 2011-2012, as well as some points he didn't score (blown layups).
Laying it in...with authority!
Not pictured much in either of those videos: Ayon's poor free throw shooting, which has clearly hampered his playing time this season. But how about that post game! If he could get another 3 inches on that vertical, he might be able to touch the r

im!
Notable Moments in his NBA Career:
Nada. Unless you want to count
this highlight
. But what a sweet beard!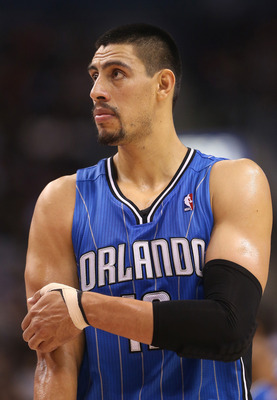 Will he ever make the big time?
Ayon does have a lot of potential if a team is willing to give him consistent court time. He certainly doesn't look impressive while he is out there, but he is quite effective and should continue to improve as he adjusts to the NBA game. Hopefully for fans of the LNBP, Ayon will make a strong comeback next season. The NBA: Donde Increible Sucede!
Please submit comments, questions, and recommendations for next week's Obscure NBA Player to

pabritton42@gmail.com

.