Each week at Volume Shooters, we highlight an NBA player, past or present, who doesn't spend much time in the spotlight but is nonetheless a valuable cog in his team's quest for the championship. Obscure players tend to be on obscure teams, but with the playoffs upcoming, we tried to pick somebody out from one of the title contenders. Here's this week's edition:
It has been an interesting week here at Volume Shooters. On Tuesday, Grantland introduced a column they called "
Who's That Guy,
" highlighting - you guessed it - an under-the-radar NBA player on a playoff team! Reading this column, we couldn't help but think it looked eerily similar to a number of pieces we had seen somewhere before...so we let them know about it. Hey Grantland: if you are reading our stuff, how about throwing a writing gig or two our way? Anyways, we really dug deep into the vault to come up with a player for this week:
He

looks pretty surprised to be this high up
This week's player is San Antonio big man
Aron Baynes
! Here's what you need to know about him:
Country of Origin:
Baynes was born in New Zealand, but competes for the Australian national team.
Vitals:
A robust 6'10" and 260 lbs.
Position:
Baynes is a...uh...sorry Steph Curry just hit a crazy three...Baynes is a Center.
Nickname:
Seeing how his last name is Baynes...wow Curry with the And-1...his nickname is "Bane," which is actually pretty sweet for such a funky looking dude.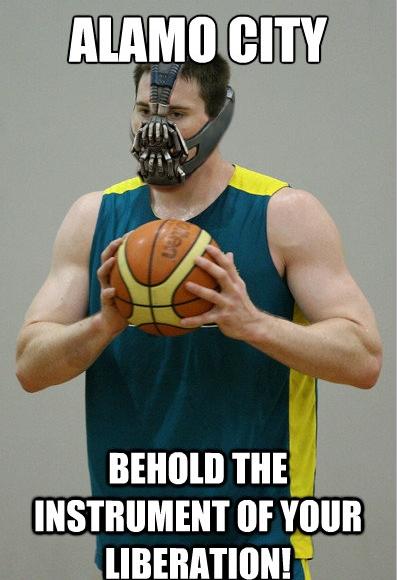 Career Arc
: Baynes was a member of the...um...prestigious Australian Institute of...OK, let's just stop this right now. Curry AGAIN from an unreasonable distance. He cannot be contained by the Nuggets' best defenders, so the solution is to put Andre "Anre" Miller on him? George Karl is either asleep or just guessing at this point. Anyways, Baynes was at the Australian Institute of Sport, which has also graduated players such as Andrew Bogut, Matthew Dellavadova, and Patty Mills, starting in 2005. He bounced around for a couple teams in Eur...
STEPH CURRY AGAIN FROM THREE!!!
This column has been compromised. Let's just whip through the rest of these as quickly a possible.
Buck-est "Bane" Mixtape Available on YouTube:
Bane had a pretty good D-League game once:
Notable Moments in his NBA Career:
One time he set a pick on Matt Barnes:
Will he ever make the big time?
He played a solid
1 minute
in game 2, picking up a nice personal foul and finishing at a -5. I'm through here (Curry just hit another 3). If you want to learn more about Aron Baynes, check out
his Wikipedia page
or something. For tonight, as a Nuggets fan, I think
Ron Burgundy says it best
. Sorry, Aron Baynes - we'll catch up with you some other time.
Please submit comments, questions, and recommendations for next week's Obscure NBA Player to

pabritton42@gmail.com

.