Each week at Volume Shooters, we highlight an NBA player, past or present, who doesn't spend much time in the spotlight but is nonetheless a valuable cog in his team's quest for the championship. This week, we are writing each of our regular posts with a March Madness theme, which provided the inspiration for this week's Obscure NBA Player.
Most college basketball fans remember the 2007-2008 NCAA Tournament for a few main storylines -
Davidson's incredible tournament run
behind Stephen Curry's magic, Mario Chalmers'
game saving shot
, and a superstar freshman playing for Memphis by the name of
Derrick Rose
. But did you know that Rose was not the leading scorer for Memphis that year? He also wasn't the only Memphis Tiger player to be selected in the 2008 NBA draft. No, the leading scorer during Memphis's 30-win season was this guy:
Is he shooting or modeling a new line of rec specs here?
Yep, the one and only Chris Douglas-Roberts! More on Chris after the brea

k...
Country of Origin:
USA - specifically, Detroit, Michigan.
Vitals:
6'7" / 210 lbs
Position:
SF/SG
Nickname:
His self-appointed nickname is "Fresh," but because that's extremely lame, we're gunna go with "The Dread Pirate," from the famous film "The Princess Bride." I know what you're thinking -
The Dread Pirate
? We can't make this stuff up.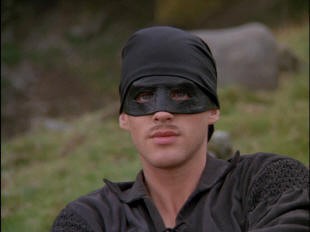 Can't you see the res

emblance?
Career Arc
: After starring at Detroit's Cass Technical High School, CDR
signed a lucrative contract
chose to take his talents to Memphis to play under John Calipari. He stayed at the school 3 years, averaging 18.1 PPG on 41% three point shooting his junior season. He helped take Memphis all the way to the final game scoring at a 23.3 PPG clip. Alas, he played a critical role in Memphis' eventual defeat, missing a jump shot and 3 free throws in the last 1:15 of regulation. He
signed his second professional contract
was drafted by the Nets in the second round of the 2008 draft and has bounced around the NBA, most recently signing with the Dallas Mavericks before being released earlier this year.
Buck-est "Dread Pirate" Mixtape Available on YouTube:
Here's a pretty sweet mixtape from his junior college season consisting mostly of super hood rap music and CDR clowning on college teams you haven't heard of:
The guy's got some ups! The national media voted CDR as a first-team All-American that season, despite his inability to hit a free throw inadvertently granting
Sasha Kaun
an NCAA championship.
Can't win 'em all, Sasha.
Notable Moments in his NBA Career:
Um...not too many. He did start a number of games for New Jersey in 2009-2010, scoring a career high of 31 points against the Milwaukee Bucks on November 18, 2009. Unfortunately, he was done in by Andre Miller-esque three point shooting in the pros, and it is unclear whether he will sign another NBA contract any time soon.
Will he ever make the big time?
Probably not. But hey, he will always have a great 2007-2008 season...except it was vacated by the NCAA. Whoops. Either way, a lot of folks will be hoping this year's Gonzaga Bulldogs can duplicate Memphis's success as a recent top-seeded mid-major to have tournament success. Let's just hope they can shoot their free throws a little bit better.
Please submit comments, questions, and recommendations for next week's Obscure NBA Player to

pabritton42@gmail.com

.