We decided to take a break from our otherwise uninteresting lives to enlighten the masses with a roundtable of 3 questions. Here's what we had to say:
Question 1:
Which player who will likely enter the NBA draft this year will have the biggest impact next season? Which of these players will have the best career?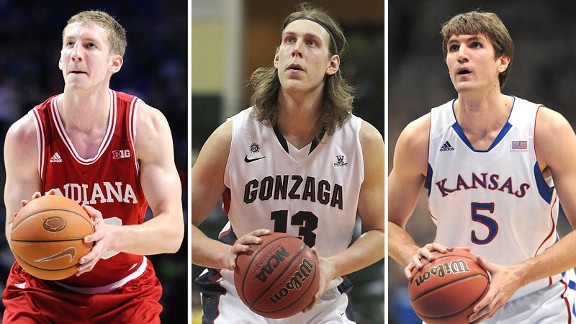 Jack: Trey Burke. If there's one thing you can learn from looking at the list of Rookie of the Year winners, it's that scoring matters, and scoring is easiest when you have the ball in your hands. Burke won't be a top 5 pick, but he'll be an important part of wherever he ends up. This was a toss up for me between Burke and Marcus Smart, and while Smart has the size to be better in the long run, but Burke plays two more minutes per game and turns the ball over significantly less. As far as best career goes, it's hard not to select a player like Smart or a super efficient scorer like Oladipo, but I'm going out on a limb and saying James Michael McAdoo. He's become a high-volume player this season in terms of shots, scoring, minutes, and rebounds. He has a great frame that will bulk up. I can see him becoming a Lamarcus Aldridge. Not sure if that will be good enough to make him the best in his class, but that'd be pretty darn good.
Brian: Player making the biggest impact next year? Otto Porter Jr. from Georgetown. He's considered a top 5 prospect, which means that he is almost certainly going to Charlotte, Washington, Orlando, or Cleveland. He would get an automatic 25 minutes a game on any one of these teams and more if he plays well early on. Otto has very good size for a small, can defend multiple positions, and rebounds well. Did I mention he's also shooting 44% from 3 this year? Lock that one down. Which player will have the best career? I'm going with the slightly unorthodox choice of Kelly Olynyk from Gonzaga. His offensive game is incredibly polished and will translate immediately to the next level. Don't believe me? He currently
leads college basketball in PER
. He definitely needs to add a little strength to defend NBA centers, and work on his defense. But some mock drafts have him going to the Celtics - there's a guy there Kelly could learn from that also came into the league as an undersized center...Kevin Garnett. I think Olynyk makes at least 3 all star games before all is said and done.
Paul: For next season's impact, the answer would have easily been Nerlens Noel until he tore his ACL going for a chase-down block against Florida earlier this season. Instead I'm going with the slightly under-the-radar candidate of Anthony Bennett out of UNLV. All rookies are really expected to do is come in, play hard, grab rebounds and score when they get the chance, and this guy can do all those things in spades. Long term, however, there's no question it will be Victor Oladipo. In a draft without a stand-out player, you have to like the guy who has been compared to everybody from Bruce Bowen to Michael Jordan this year. Incredible defender, great shooter, high basketball IQ...what more can you ask for from a draft pick?
Question 2:
Yesterday we linked to a photo of Chris Andersen and his tattoos. Which non-tatted-out player would you most like to see covered in an endless mural of ink?
Jack: Can you imagine
this white dude,
playing in a fairly white metropolis where it snows a lot, being the most tatted up bro on his squad? Maybe Ricky Rubio, JJ Barea, and Alex Shved should all go in together and get one giant tattoo depicting Jerry Sloan's face to convince him to come coach their team out of mediocrity.
Brian: Easiest question I've ever gotten. Kyle freaking Singler. I'm going to one up Jack's "can you imagine if" line and just show you the light:
Paul: There's really no wrong answer to this question, so I'll just go to the VS default answer of "Sugar" Steve Novak. Can you imagine
that guy
walking around with amazing tats? Priceless.
Question 3: Which team not named the Heat, Thunder, or Spurs could make a surprise run to the finals this year by knocking off one or more of the aforementioned juggernauts, and why? (I feel like I have to ban Paul from saying the Nuggets)
Jack: Golden State. The obvious answer here, and the answer I've stood by for a while, is the Bulls. If Derrick Rose can help them snag the 4 or 5 seed, that second round match-up against Miami would be at least worth watching. Golden State, however, has the bulk of their remaining games at home, and with Utah slipping and Kobe hurt, they appear to be a lock for the playoffs. I would not want to be the Clippers as the 3 seed or the Spurs as the 2 seed if Curry, Jack, and Klay Thompson all catch fire while Andrew Bogut decides to play defense again. I'm not saying it'll happen. But it could, and it would make the Western Conference even more fun.
Brian: I know this is the easiest answer, but I have to say the Pacers. No one outside the Heat is a threat in the East, who they wouldn't see until the conference finals. And remember, they gave the Heat a major scare in the playoffs last year. They play the best defense in the league bar none and boast a pretty strong home court advantage (26-7). Yeah their offense is mediocre at best...but they've been without Danny Granger the whole season! And guess who comes back this week? If he can get it going at least a little they have a legitimate shot to make the finals.
Paul: No fair banning the Nuggets! If I can't say them, I have to go with Memphis. Since trading the highly overrated Rudy Gay, they have been steamrolling the West and have a legitimate shot of picking up a top 2 seed if either OKC or San Antonio steps off the gas in the final weeks. Full of smart players who always give maximum effort, all this team needs is a bit of a 3-point shooting streak and you could see an unlikely finals representative from the West (unlike the East, where the Miami Heat have as good of a chance of fulfilling Moses Malone's "Fo', fo', fo'" prediction of any team in my lifetime).
Think of a question we should include in our next table? Feel free to send them our way! Japedaco@gmail.com, pabritton42@gmail.com, and brian.sachtjen@gmail.com.