Each week at Volume Shooters, we highlight an NBA player, past or present, who doesn't spend much time in the spotlight but is nonetheless a valuable cog in his team's quest for the championship. Obscure players tend to be on obscure teams, but with the playoffs going on, we tried to pick somebody out from one of the title contenders. Here's this week's edition:
To quote a friend who I'm 99% sure never reads our blog, now that the Conference Finals have started, the playoffs are really starting to get down to brass tacks. All the
fun teams
pretenders have been eliminated, and with them, many of the truly obscure players still making a playoff rotation have been sent home for the summer. Fortunately for our readers, I will stop at nothing to bring a fresh edition of this column every week until the playoffs end (even if I am secretly just trying to take up all the good players so Shane Ryan's
"Who's that Guy" column
runs out of material before we do). With my task at hand, I scoured the remaining playoff rosters to find a non-household name who may trend on Twitter before the 2013 season is said and done. This week, I came up with this guy:
Although pictured here in a Dallas uniform, that's current Pacers backup center
Ian (pronounced "Yan") Mahinmi
, who somehow managed to get a custom wallpaper image with him ascending from a giant ball of flames. Estimated total downloads: 6 (well, 7 now that we've put it on here). Anyways, here's the lowdown on Ian.
Country of Origin:
FRANCE. Mahinmi is the center on the all-French NBA team, flanked by Tony Parker (pretty good!), Rodrigue Beaubois (OK!), Nicolas Batum (
violent!
) and Boris Diaw (still pretty pudgy!). Not only would that team be pretty decent, they would lead the league in flopping fines...well, except for Batum.
Vitals:
6'11" / 230 lbs.
Position:
Center.
Nickname:
Since his name is pronounced "Yan," Mahinmi enjoys the fairly clever nickname "The Ianimal." I give it a solid B+.
Career Arc
: Although he is lining up for the Pacers during the conference finals, Mahinmi's career arc is heavily based in the lore of the San Antonio Spurs and their ability to take players nobody knows about and turn them into career long starters (see
Ginobli, Manu
). In fact, Mahinmi may be the best example of Popovich-Buford wizardry, as the Spurs took him 28th overall out of French team Pau Orthez. This was remarkable because Mahinmi
was not listed in the 128-player draft guide assembled by the league
. Think about that for a second: at a minimum, the NBA thought there were 100 players better than Mahinmi at the time...and he was drafted in the first round. He spent a year back in France before coming over and tearing up the D-League from 2007-2009. He signed with the Mavericks in 2010 and promptly won a championship, not a bad way to really get your NBA career rolling. He now backs up everybody's playoff darling Roy Hibbert, which is difficult for announcers because they look pretty similar...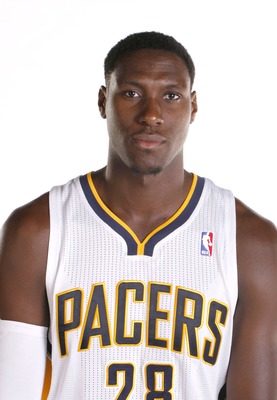 HOLY CRAP THEY

LOOK IDENTICAL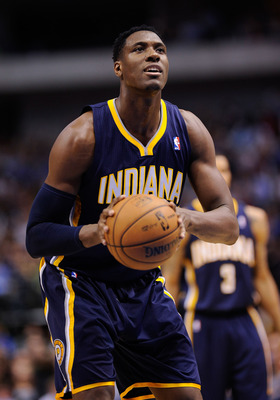 Just kidding! That was two pictures of Mahinmi. Trust me though.
Buck-est "Ianimal" Mixtape Available on YouTube:
Here we have Mahinmi "serving up a facial" on everybody's favorite Kardashian, Kris Humphries! This clip gets bonus points for the bemused looks on Kidd's and Carter's faces on the bench after it happens.
In case that didn't sate your Ianimal appetite, here's some French league highlights:
Notable Moments in his NBA Career:
Mahinmi is definitely our first Obscure NBA Player to have a legitimate notable moment - this 3rd quarter buzzer-beater from the 2011 Finals!
That sound you can hear in the background is all the Miami fans urgently jumping on the Dallas bandwagon.
Will he ever make the big time?
Seeing how he is 26, it would seem like he has room for improvement...but seeing how this is his 10th professional season, its unlikely he will get much better. Nevertheless, he has already proven he can be an important bench piece for a championship team. Isn't that enough?
Please submit comments, questions, and recommendations for next week's Obscure NBA Player to

pabritton42@gmail.com

.