Each week at Volume Shooters, we highlight an NBA player, past or present, who doesn't spend much time in the spotlight but is nonetheless a valuable cog in his team's quest for the championship. Obscure players tend to be on obscure teams, but with the playoffs going on, we tried to pick somebody out from one of the title contenders. Here's this week's edition:
In a matchup that I
somewhat predicted
at the beginning of the season, the Miami Heat will face the Chicago Bulls in an Eastern Conference Semifinal kicking off tomorrow. When you think of Miami this season, pretty much the last thing that comes to mind is any obscure players - they are a collection of hall-of-famers, some older than others, who teamed up for one more shot at a title. Probably their most obscure player (not counting the immortal Jarvis Varnardo and his
1.20 PER
) is Norris Cole, who was a staple in their rotation even last season and should be familiar to most fans. The Bulls, on the other hand, have been decimated by injuries to the point that almost everybody on their roster would qualify for this column. We already highlighted Marco Bellinelli a while ago, but there is one more obscure European player who Tom Thibodeau has had to deploy in limited situations this year, as he may have to do this series if Luol Deng's injury proves serious: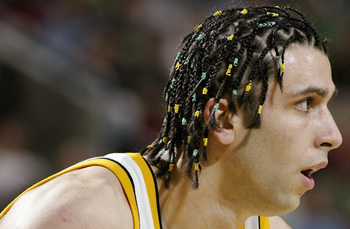 No way. This was either rookie hazi

ng or...
That strapping fellow in the above picture is 12-year NBA veteran
Vladimir Radmanovic
! Here's the lowdown on Vladimir:
Country of Origin:
He was born in the lovely town of
Trebinje
in what is now Bosnia and Herzegovina, which actually looks pretty scenic.
Vitals:
6'10" / 235 lbs.
Position:
SF/PF
Nickname:
Владимир Радмановић - oh wait, sorry, that's actually just his name in
Elvish
his native Serbian language. There is actually no consensus on a nickname, but in various locations I've seen "Vlad Rad," "Radman," "The Special One" (???), "Broadway Joe" (since he apparently looks like Joe Namath), and "my favorite Martian," a nickname bestowed upon him by Phil Jackson. Well then.
You know, maybe that nickname isn't so

bad.
Career Arc
: To put it lightly, Radmanovic is what you would call an "NBA Journeyman." After beginning his career with something called "
KK Crvena Zvezda
," also known as "Red Star Belgrade," V-Rad was drafted by the Zombies Seattle SuperSonics with the #12 overall pick in 2001. He stayed with the Sonics for 5 seasons and posted pretty good numbers, including a career high 12 PPG in 2003-2004. For some reason, V-Rad thought he had built up enough of a reputation that he complained about not being a starter. Since he was squarely a league-average player, he was promptly shipped to the Clippers in 2006. The following off-season, he was actively pursued - yes, actively pursued - by the L.A. Lakers with the promise of being a starter! He started all 21 playoff games for the Lakers in 2007-2008! Is this real life? He was also dumb enough to separate his shoulder while snowboarding, then lie about it to Lakers management.
Unfortunately, "Broadway Joe" quickly came back down to earth, being traded to Charlotte and Golden State, then signing deals with Atlanta and Chicago in fairly short order.
Buck-est "My Favorite Martian" Mixtape Available on YouTube:
Here's a V-Rad mixtape (appropriately set to the song "Sorry for Party Rocking") which will actually generate a significant portion of its views after I post it on this blog! We move web traffic people!
He actually is raining threes for most of this video, which would be more impressive if he hadn't played 10 years in the league and only generated one highlight mix that is less than 3 minutes long.
Notable Moments in his NBA Career:
Easily the most significant contribution he made to the NBA landscape was for the Lakers in the 2008 playoffs, when, as mentioned above, he somehow
started 21 games
. Despite the extended minutes, he only averaged 8 points and 4 rebounds a game, although he did shoot almost 38% from 3. Perhaps the Zen Master was a little bit too zen in that postseason (the Lakers lost to Boston in the Finals).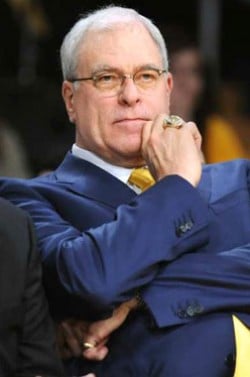 8 points...4 rebounds...it is all falling into pl

ace.
Will he ever make the big time?
Unfortunately, V-Rad's best days are probably behind him, but he has made some solid contributions in his extended career. Since the Bulls seem to have been struck with the plague this year, it wouldn't surprise me if Radmanovic has one more memorable playoff performance in store before it is all said and done. If not? Well...we will always have this photo.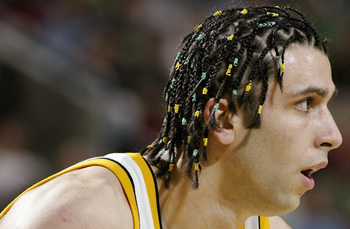 Please submit comments, questions, and recommendations for next week's Obscure NBA Player to

pabritton42@gmail.com

.